Linux Allgemein
Einleitung

Aufbau und Philosophie

Distributionen, Support

Anwendungsbereiche
---
Einleitung
Linux is an affordable, good, stable, reliable and secure Operating System for Desktop and Server applications.
Linux is well suited for academic as well as for commercial usage.
Linux is something special, not experienced so far in the big OS space.
Linux is not thinkable without the Internet.
Linux is very important to keep the OS market competitive in the future.
Linux is the only competitor of Microsoft's operating systems, especially Windows NT / XT.
Linux is a philosophy, but Linux is also a software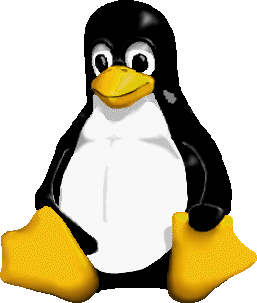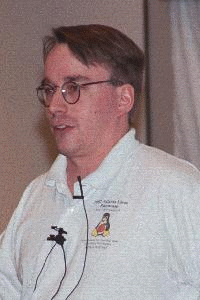 Linux ist ein Unix-Derivat
1969: Ken Thompson entwickelt UNIX bei den Bell Labs.
1984-1987: am MIT wird X-windows entwickelt.
~1985: Andrew Tanenbaum entwickelt Minix.
1991: Linus Torvalds beginnt an einem Minix Derivat, genannt "Linux", zu arbeiten.
1991: erster stabiler Kernel. Linux verbreitet sich im Internet.
1993/1994: erste Linux Distributionen auf CD-ROM.
1998: Commercial hardware companies Siemens, HP, Dell, Fujitsu-Siemens und IBM announce Linux on their plattforms.
1999: After SAPs announcement to port SAP R/3 to linux, the following producers of DB / Applications software are in the linux boat: Oracle, Informix, Sybase, Ingres, Netscape.
2000: Gründung der Open Software Development Labs (OSDL) zur Unterstütung der wichtigsten Entwickler.
Systemarchitektur
Layered model of a Linux Hardware/Software - System
Last kernel release: v2.6.11.4-21.7
Development kernels: e.g. v2.1.132, v.2.5.10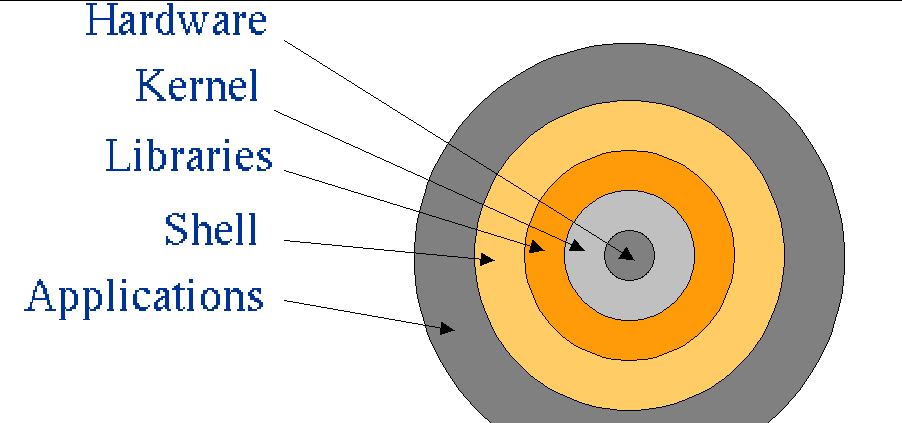 Kernel supports multi-tasking and multi-user operation
virtual memory with swapping
shared libraries
inter process communication
multi-core CPU systems and symmetric multiprocessors
all kinds of networking protocols, especially TCP/IP over DSL, ISDN, WLAN, WAN, LAN
high performance computing clusters
many different (journaling) file systems: Ext2/3, Reiser, XFS, JFS, OCFS2
runs on all kinds of hardware, including 64bit AMD and Intel systems
GNU = GNU is Not Unix
Tools available for all major platforms
Products under GNU Public License (GPL)
Standadization of Software
High Reliability
High Functionality
GNU Public Licence (GPL):
Free Availability of Source Code
Free passing on of the complete Software Package
Hardware Platforms
Processors:

Intel x86, IA68
AMD x86, Opteron
DEC Alpha
MIPS
PowerPC / PowerMAC
Sun SPARC / Ultra Sparc
Motorola m68k
ARM

Systems:

IBM AS/400, RS/6000, S/390
Siemens Celsius, Primergy
SGI Indy
HP (Compaq) Alpha Server
NeXT
3Com Palm II/III
Development Philosophy
Release early, release often - L. Torvalds
Delegate everything you can - L. Torvalds
Treating the users as co-developers means rapid code improvement and effective debugging.
Given a large enough beta-tester and co-developer base, almost every problem will be characterized fast and the fix obviously to someone.
Debugging is parallelizable - Jeff Dutky, Opensource Movement
KISS - Keep It Small and Simple
Listen to the users. Sometimes their ideas are better.
Recognizing good ideas from others is very important.
The internet is an ideal tool for development of software according to the Bazaar-Model.
In contrast Microsoft Software is developed according to the Cathedral-Model.
Linux is developed by the community.
Anyone making use of the software must agree to give everyone else the rights to use, modify, and redistribute the program´s code or any program derived from it but only if the distribution terms are unchanged.
Business Analysts in 1999:
GartnerGroup 01/99: "The ground swell of interest in Linux [..] is poised to gain momentum if sincere vendor support becomes available"
GartnerGroup 01/99: "Linux vendor technical support for MSEs will only be adequate for technically knowledgeable IT organizations through 2000 (0.7 probability)."
IDC 04/99: According to statistics from IDC, about 750,000 servers had Linux installed in 1998, an increase of 212% (NT: 36%)
IDC 04/99: Over the next five years, Linux will grow faster than all other operating systems combined.
Dow Jones 04/99 : The market size for Linux-related business will be between $5 billion and $20 billion in 2002.
DH Brown 04/99: Linux comes up short when compared feature-for-feature with commercial Unix products and Windows NT, but the operating system is great for some tasks.
Distributions
as of march 2006
contain: kernel, X-windows, KDE or Gnome, Apache, Office, FireFox, etc.
Debian

really free, for professionals
Gentoo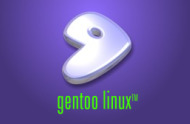 compile every thing from scratch via internet
Knoppix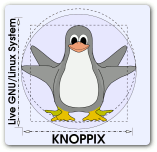 runs from one CD / DVD without installation
Mandriva

Mandrake + Connectiva
Red Flag

asian, chinese
Red Hat

Enterprise Server, Fedora
SuSE

Enterprise Server, Professional, openSUSE, Novell
Ubuntu

runs from one CD / DVD
for example SuSE
Good manual
Help files and docs on CD
60 Days free installation support via Email, Fax and Hotline
SuSE-support database on the Internet (free)
Commercial support service
Free Support
Zero costs (if you have Internet access)
You have to be active in Newsgroups, Mailing Lists, WWW etc.
there is no guaranteed servic time ...
but a very high probability to get the problem fixed
Technical Support
Community Help: The Linux Documentation Project maintains dozens of how-to files covering every imaginable subject, including installation, DOS emulation, networking, and using Cyrillic characters.
Check Out Newsgroups: Check out the wide variety of Linux-based Usenet newsgroups, including comp.os.linux.misc, comp.os.linux.setup, comp.os.linux.questions, and alt.os.linux.
Other Linux Users: Linux user groups have cropped up around the globe
Commercial: If your company needs Linux support -- even around the clock -- it's available. Both Red Hat and SuSE offer full-time, phone-based tech support help, either on a per-incident or annual contract basis. In addition, there is now support from software and hardware vendors like Siemens, IBM, HP
Direct Support
Linux "common channels" support using specialized news groups and mailing lists has a great value.
Direct contact with the main developers
Direct contact with users with the same problem
Fast response and advice ( ~ 1 hour response time is common)
An alternative to "commercial support" but without guarantees
Hardware and Software support directly from vendors recommended
By mission critical application 24/7 support contracts recommended
Linux as Desktop Maschine
Office suits available (Applixware, StarOffice, Wordperfect, KDE-Office, OpenOffice)
Easy to use and compatibility with MS-Office (Word, PPT)
Smart text editing and formatting available: TeX, LaTeX
Not easy to use, but very widespread use from Scientific Users well suited for big documents and books
Graphical user interface is X-Windows, X11R6 from XFree86 or X.org
Desktops: KDE, Gnome, Fluxbox, ICE
Applications for most important tasks: Office applications, image processing, scientific/technical, web, audio, internet tools, software development, rendering, ...
SAP R/3 GUI available since 12/99
Although many applications are available, Linux needs a better and easier installation procedures and more applications for the normal user.
L. Torvalds: "... The desktop market is the hardest by far".
Linux as Server: Intranet + Internet
Samba (in Windows-Networks)
NFS (Network File System)
Print-Server
Email-Server (with IMAP or POP3)
Central Backup-Server
Firewall between LAN and Internet
FTP (File Transfer Protocol)
WWW-Server mit Apache (HTTP), PHP und MySQL
News-Server
Email-Server
Name-Server (DNS)
Linux is great as operating system in LANs and in the Internet
High Performance Linux Cluster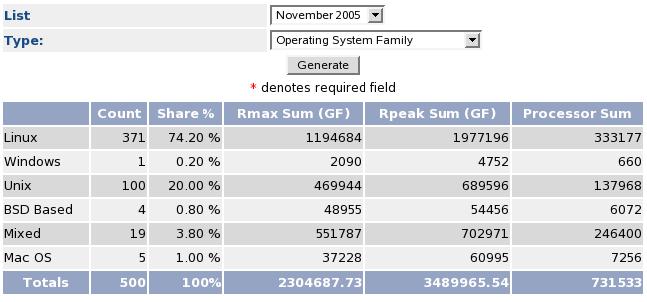 ---
© Universität Mannheim, Rechenzentrum, 1999-2006.
Heinz Kredel
Last modified: Wed Mar 15 15:54:08 CET 2006