Linux in Mannheim
---
Linux at RUM
1995: Web stations all around the university
1996: Trumpf Beowulf Cluster
10 P133 SMP, Ethernet. Applications: PVM, MPI and a distributed indexer and search engine. First experiences with Apache on Linux
1996: Various databases: TOP500 Database, History database, RUM Library
1997: Siemens Primergy Quad PPro200. As node 11 in the trumpf cluster
1997: Comyc Cluster
8 PPro 200 SMP, Myrinet, diskless nodes
1997: As a Desktop with KDE and WindowMaker
1998: WWW Server for www.top500.org
1999: Cooperation with Siemens on testing and benchmarking SAP R/3 with Oracle on Siemens Primergy.
1999: Samba PDC (Primary Domain Controller) for HPC/WWW Group. File Server, Print Server..
1999: top500.org powered by Siemens Primergy
More projects planned
We are neither Yahoo nor Lycos....
but to have 257.245 hits in one day is really encourging....
Samba
Linux can replace windows NT to control domains (PDC).
Used to provide file and print services.
Web Administration Tool (Swat) available
Easier local and remote administration.
Better performance:
SMP
2.0.0 had poor SMP support (First stable kernel series with SMP support)
SMP needs applications which use SMP capabilities
Quad SMP on Primergy seems to work with a noticable stabiltity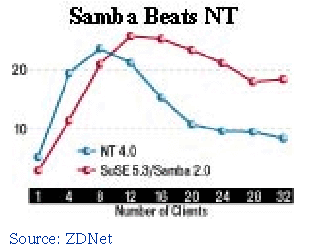 High availabilty (Uptimes of 100 days and more)
HPC programing environment freely available
Interconnect hardware support available
Diskless configurations stable and ease administration
Highly scalable: add or remove nodes whenever necessary
SAP R/3 in Mannheim
1998-: SAP R/3 (IDES) on RM1000
1999-: SAP R/3 on Primergy 870 running Linux
Linux vs NT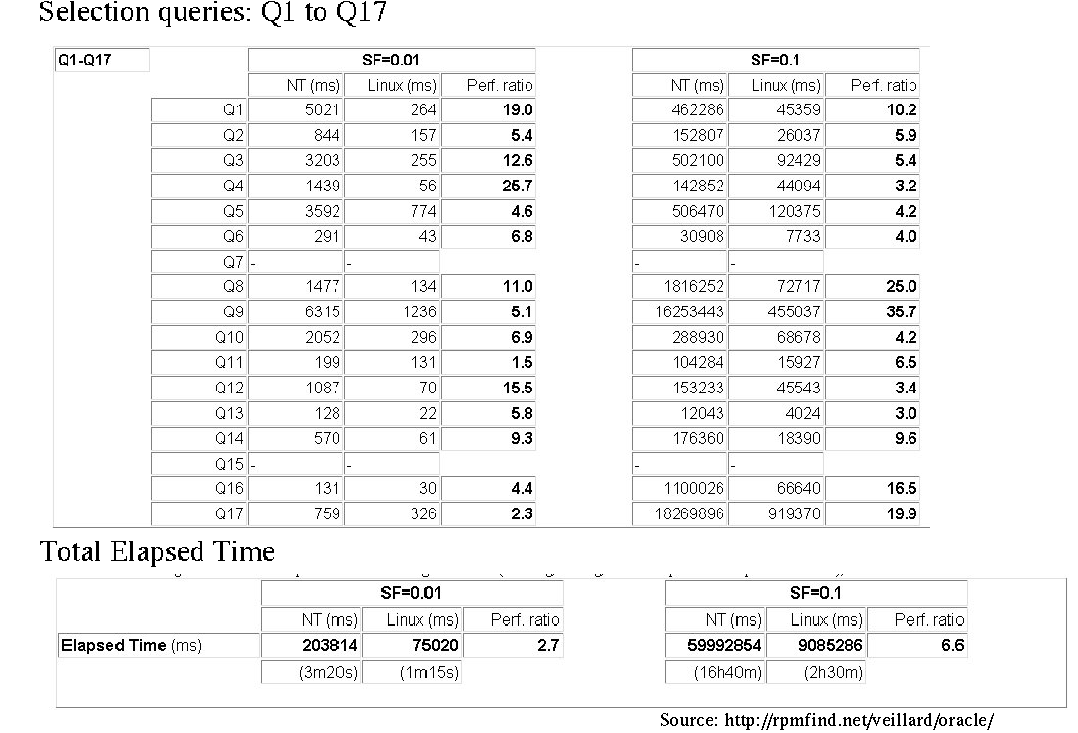 Oracle Benchmark Queries: Linux vs NT
Security
Security against intruders from the network:
At least as good as other unices
Better and widly proven security concepts than NT
Securtiy agains viruses: Currently on 2 known viruses among other 40.000 known viruses (April 99).
Reliable back up solutions (BRU, ADSM client and soon Networker)
High-Availablity through solutions from Wizard/Bee.
Linux is Year 2000 proof
Problems will appear first in 38 years (2038).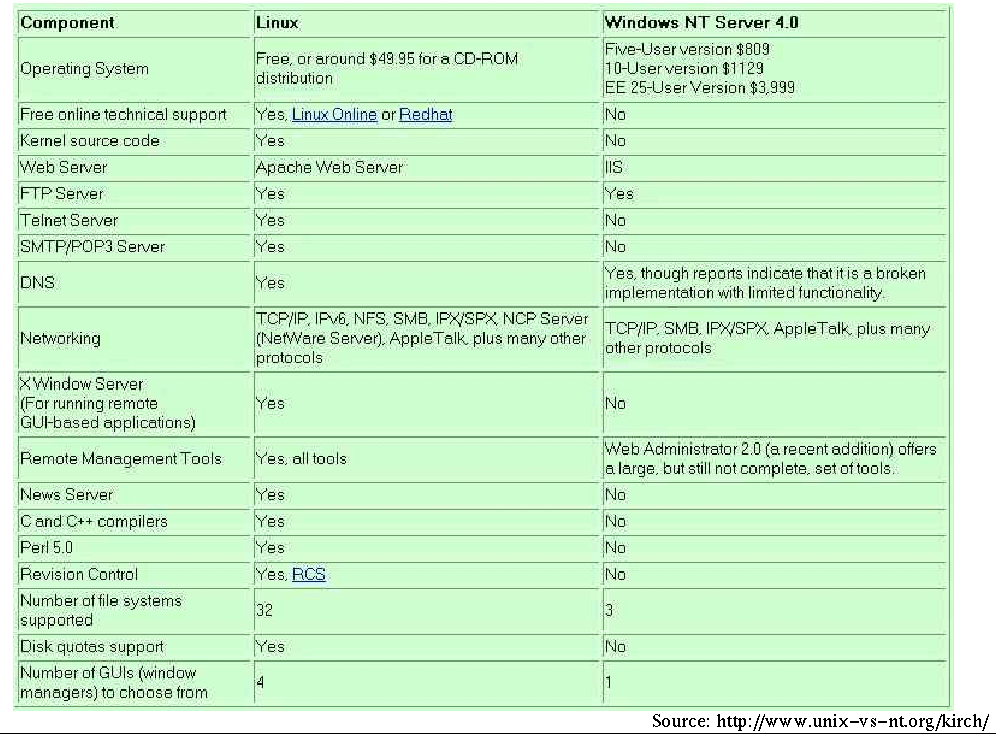 Funktionsvergleich: Linux vs NT
Technical Support
Community Help: The Linux Documentation Project maintains dozens of how-to files covering every imaginable subject, including installation, DOS emulation, networking, and using Cyrillic characters.
Check Out Newsgroups: Check out the wide variety of Linux-based Usenet newsgroups, including comp.os.linux.misc, comp.os.linux.setup, comp.os.linux.questions, and alt.os.linux.
Other Linux Users: Linux user groups have cropped up around the globe
Shell Out Cash: If your company needs Linux support--even around the clock--it's available. Both Red Hat and Caldera offer full-time, phone-based tech support help, either on a per-incident or annual contract basis. In addition, there is now support from software and hardware vendors like Siemens, IBM, Compaq.....
Linux "common channels" support using specialized news groups and mailing lists has a great value.
Direct contact with the main developers
Direct contact with users with the same problem
Fast response and advice ( ~ 1 hour response time is common)
An alternative to "commercial support" but without guarantees
Hardware and Software support directly from vendors recommended
By mission critical application 24/7 support contracts recommended
Links
http://www.linux.org
http://www.freshmeat.net/
http://www.slashdot.org/
http://www.32bitsonline.com/
http://linuxtoday.com/
http://www.linuxhq.com/
http://www.linuxworld.com/
http://linuxpower.org/
http://www.linuxcare.com/
http://linuxresources.com/
The End
Linux is growing in popularity not because of the hype surrounding it, but "because it does what people want it to do".
Linus Torvalds said to the crowd at the Spring Comdex show 1999.

Bill Gates: "Certainly, we think of it as a competitor in the student and hoppyist market. But I really don´t think in the commercial market we´ll see it in any significant way."
---
von Anas Nashif
© Universität Mannheim, Rechenzentrum, 1999.